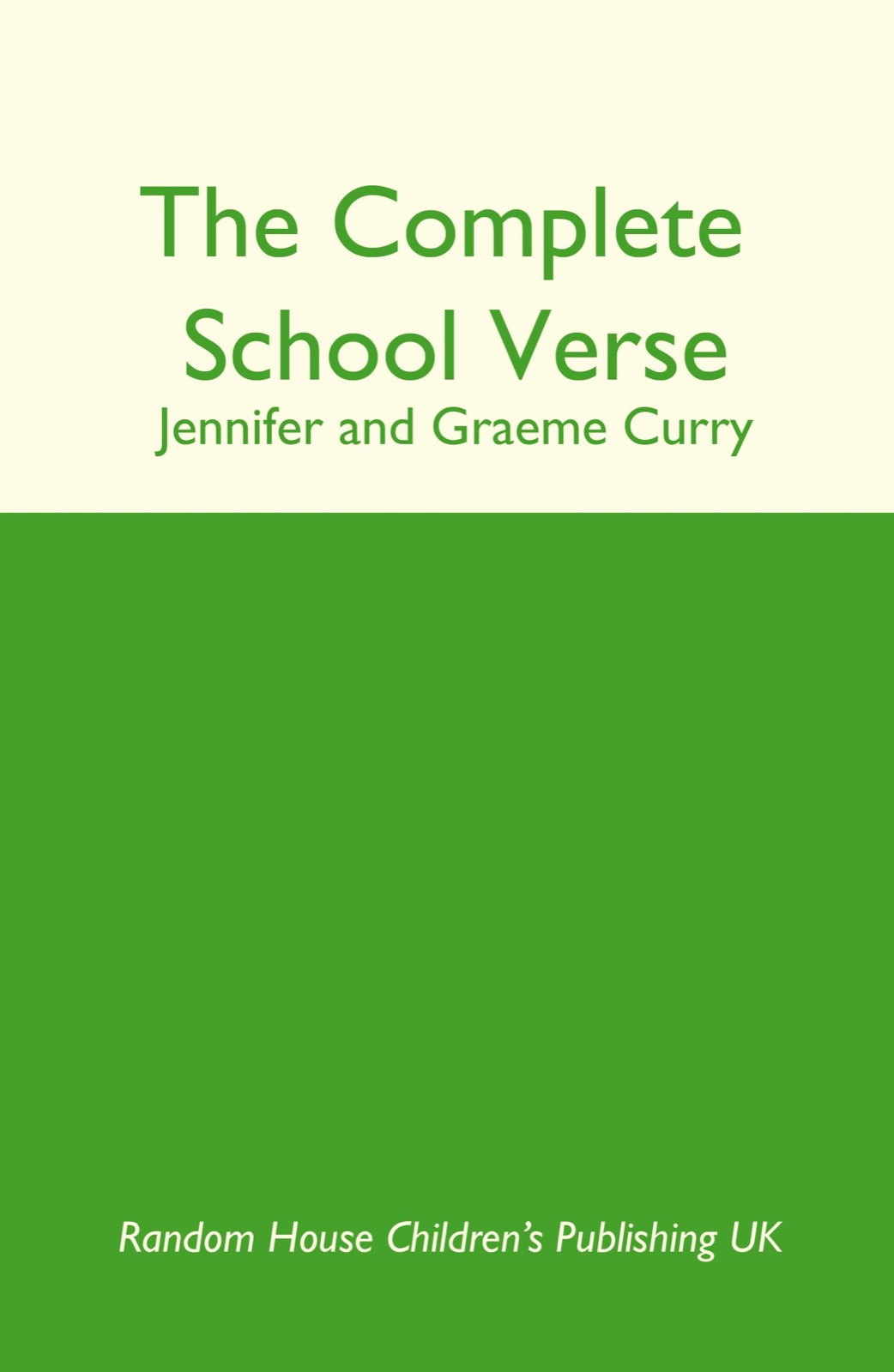 Contents
Cover
Title Page
Dedication
Our School
Going to School
Meet-on-the-Road
Going to School in the Country
Going to School in Town
The Lollipop Lady
Marbles in my Pocket
I've Got an Apple Ready
Bus to School
The School Bus Breaks Down
The Schoolboy
First Day at School
School Bell
The New Boy
In the Classroom
In Hall
Morning Prayers
I Went Back
From the Classroom Window
From the classroom window
Timothy Winters
Against Idleness and Mischief
God Made the Bees
My Teacher
Rodge Said
Teacher's Pet
The Description of a Good Boy
Maths Problems
Maths Lesson Rules
Exercise Book
Tingle-tangle Titmouse
The ABC
Punctuation Puzzle
BANANANANANANANANA
A was an Archer
A Good Poem
Poets
The English Language
The English Succession
Willy, Willy
Demeanour
The Dunce
Streemin
Confusion
The Bully Asleep
Nooligan
Upon Pagget
Deborah Delora
The Toe Picker
The Marrog
Scribbled on the Fly-leaves in Old School Books
Good News
Board Rubber
Last Lesson of the Day
Songs
Carols
Nicky-nacky-noo
Songs
Speech Day
Wycombe Abbey Song
School Song of Godolphin and Latimer School, Hammersmith
Pontefract and District High School School Song
School Dinners
A Child's Grace
Dinner Lady
Dinner Lady
School Dinners
Cherry Stones
Blotting Paper Pudding
Poor Simon Benn
Table Rules for Little Folk
Table Manners
Scottish Grace
Playtime
The Battle
Children's Song
Dips – to Start a Game
Clapping Games
Jumping Game
Child's Bouncing Song
Ball Bouncing
Skipping Rhymes
Belfast Skipping Song
Conkers
Winter
Words
The Fight
The Bully
Hill Rolling
Sports
I'm a Man
Choosing Sides
Here are the Football Results
Football Game
The Pass
Cricketer
There's a Breathless Hush in the Close Tonight
I Ran for a Catch
The Name of the Game
Rounders
Games Lesson – Rounders
Out of School
Voices
School's Out
Out of School
Walking from School
11 Bus
Top-secret School
After School
Parents' Evening
Homework
A Little Mistake
Saturdays
Saturdays
Hymn for Saturday
Sitting on Trev's back wall on the last day of the holidays trying to think of something to do
The Porter
The Barber
What Would You Like to be When You Grow Up, Little Girl?
Career
Psychological Prediction
Jobs
More School Verse
Contents
Dedication
Going to School
Summer Goes
The Old School Bus
The Good, the Bored and the Ugly
First Primrose
The False Knight and The Wee Boy
It's School Today
Red Cows
The Wind
First Day at School
Thinking
School Thoughts
School Buses
Impressions of a New Boy
First Day at School
This 'Ere School
I Don't want to go to School Today
The School
Sounds of School
On a March Morning
Go Away and Shut Up
Oh bring back higher standards
The Magician
I Don't Know
Red Ink
The Computer
School Pupils
Ten Little Schoolboys
Johnson Broke my Ruler, Sir
The Fight
The Rebel Child
Playing Truant
The Leader
When I was lonely
The Loner
Us Dreads
I am a Deemmun
The Bully
Thug
The Bully
Dumb Insolence
That's Me
A Stomach-ache is Worse Away from Home
The Lesson
Schoolboy
The Bionic Boy
Tom's Bomb
Government Health Warning
Lizzie
Big Jim
The Changeling
Lessons
Riddle
The PS Room
Lmntl
Write a Poem
Riddle
Schoolpoem 2
Arithmetic
Six Times One
In the Garden
The Painful Way to Multiply
1 × 2 is 2
Hullo, Inside
Science
A Survey of Sovereigns
The School at the Top of the Tree
Millicent and the Nature Ramble
My Picture
Art
How to Paint the Portrait of a Bird
Singing
The High School Band
Keeping the Score
Friday Morning Last Two Lessons is Games Day
Winter Sports
A Wet Football Game
Kevin Scores!
Jolly Hockey Sticks!
Homework
I Love to do my Homework
The Last Exam
Bad Report – Good Manners
School Report
In the Playground
Morning break
In the Playground
Complaint
Skipping Songs
Skipping Song
Counting-out Rhymes
Counting-out Rhyme
The Blue Ball
Ball Bouncing Rhymes
Whip Top
Conkers
Down in the Meadow
The Alley-Alley-O
School
Back in the Playground Blues
Winter Playground
School Food
Whole Duty of Children
Come to the Cook-house Door
Martha Munch
Dinner Queue Dilemma
School Dinners
James Bond comes to Lunch
School Gravy
Drinking Fountain
Pancake Day
A Peanut sat on the Railroad Track
I Eat My Peas With Honey
School Teachers
Distracted the Mother said to her Boy
New Teachers
Teachers
He Who owns the Whistle rules the World
Words with Teacher
A Close Shave
A Teacher
A Schoolmaster's Admonition
Writing Right
If the Teacher was a Robot
A Teacher from Harrow
A Teacher from Leeds
Thoughts
Daydreams
Miss Norma Jean Pugh, First Grade Teacher
I was Mucking About in Class
School Pets and Other People
Tashy the School's Rabbit
The Goldfish
Zebra Crossing
Lost
Mr Fitzsimmons
Mr Mole
The School Nurse
After Adrian Mitchell – We Liked His Stuff!
Intelligence Test
Aristotle and Ballcocks
Going Home
There's a Ladybird on Carol's Hair
The Last Lesson of the Afternoon
Evening Schoolboys
For a Junior School Poetry Book
Oh, Joyous House
Walking Home
School's Over
Author's Acknowledgements
Acknowledgements
Index of titles
Index of first lines
Copyright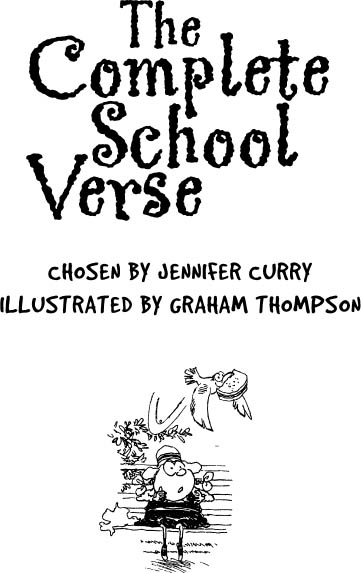 This book is for Henry and Sophie,
With love
Author's Acknowledgements
Very many people have helped me to gather together the poems in this book – a lot of friends, teachers, parents and children, especially children. I would like to thank them all, but particularly, my assistant, Graeme Curry, for his imagination, hard work and everlasting fund of good ideas; and also June Shirfield and the children in her class at Downton Primary School; Greta Pike; Sandy Mason; the Salisbury Times and Journal; St Edmund's Arts Centre Writers' Workshop; the Director, Wiltshire Library and Museum Service; the library of ILEA's Centre for Language in Primary Education; and the many Beaver Bulletin Readers who sent in their favourite school rhymes.

Our School
I go to Weld Park Primary,
It's near the Underpass
And five blocks past the Cemetery
And two roads past the Gas
Works with the big tower that smells so bad
me and me mates put our hankies over our
faces and pretend we're being attacked
by poison gas … and that.
There's this playground with lines for rounders,
And cricket stumps chalked on the wall,
And kids with their coats for goalposts
Booting a tennis ball
Around all over the place and shoutin' and arguin'
about offside and they always kick it over
the garden wall next door and she
goes potty and tells our head teacher
and he gets right ratty with
everybody and stops us playin'
football …
… and everything.
We have this rule at our school
You've to wait till the whistle blows
And you can't go in till you hear it
Not even if it snows
And your wellies get filled with water and your socks
go all soggy and start slipping down your legs
and your hands get so cold they go all
crumpled and you can't undo
the buttons of your mac when
you do get inside …
… it's true.
The best thing is our classroom.
When it's fine you can see right far,
Past the Catholic Cathedral
Right to the Morris Car
Works where me Dad works as a fitter and sets off
right early every morning in these overalls
with his snap in this sandwich box and
a flask of tea and always moanin'
about the money … honest.
In Hall we pray for brotherly love
And sing hymns that are ever so long
And the Head shouts at Linda Nutter
Who's always doing wrong.
She can't keep out of trouble because
she's always talkin'
she can't stop our teacher says she
must have been injected with
a gramophone needle she talks
so much and
that made me laugh once
not any more though I've heard it
too often … teachers!
Loving your enemy sounds all right
Until you open your eyes
And you're standing next to Nolan
Who's always telling lies
About me and getting me into trouble and about
three times a week I fight him after school
it's like a habit I've got
but I can't love him even though
I screw my eyes up real hard and try like
mad, but if it wasn't him it
would be somebody else
I mean
you've got to have enemies …
… haven't you?
We sing 'O to be a pilgrim'
And think about God and heaven
And then we're told the football team lost
By thirteen goals to seven
But that's not bad because St Xavier's don't half have
big lads in their team and last time we played
they beat us eighteen one and this time
we got seven goals …
… didn't we?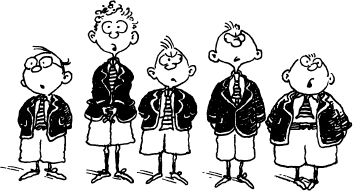 Then we have our lessons,
We have Science and English and Maths,
Except on Wednesday morning
When our class goes to the baths
And it's not half cold and Peter Bradberry's
fingers went all wrinkled and blue last week
and I said, 'You're goin' to die, man'
but he pushed me under the water and I had to
hold my breath for fifteen minutes.
But he's still alive though …
… he is.
Friday's my favourite day though,
We have Art all afternoon
And I never care what happens
'Cos I know it's home-time soon
And I'm free for two whole days but I think
sometimes it wouldn't be half so good
having this weekend if we didn't have five
days
of
school
in
between—
Would it?
Gareth Owen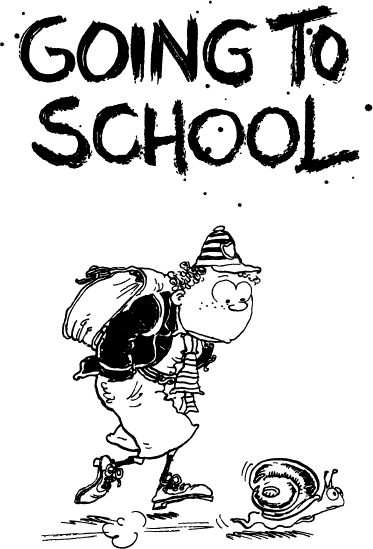 Meet-on-the-Road
'Now, pray, where are you going?' said
Meet-on-the-Road.
'To school, sir, to school, sir,' said
Child-as-it-Stood.
'What have you in your basket, child?' said
Meet-on-the-Road.
'My dinner, sir, my dinner, sir,' said
Child-as-it-Stood.
'What have you for dinner, child?' said
Meet-on-the-Road.
'Some pudding, sir, some pudding, sir,' said
Child-as-it-Stood.
'Oh, then, I pray, give me a share,' said
Meet-on-the-Road.
'I've little enough for myself, sir,' said
Child-as-it-Stood.
'What have you got that cloak on for?' said
Meet-on-the-Road.
'To keep the wind and cold from me,' said
Child-as-it-Stood.
'I wish the wind would blow through you,' said
Meet-on-the-Road.
'Oh, what a wish!' What a wish!' said
Child-as-it-Stood.
'Pray, what are those bells ringing for?' said
Meet-on-the-Road.
'To ring bad spirits home again,' said
Child-as-it-Stood.
'Oh, then I must be going, child!' said
Meet-on-the-Road.
'So fare you well, so fare you well,' said
Child-as-it-Stood.
Anon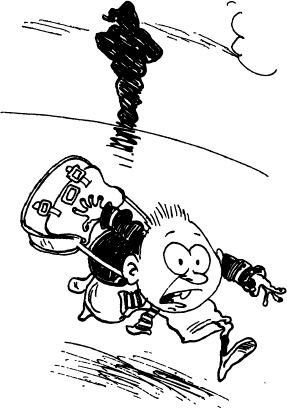 Going to School in the Country
A long walk,
two miles or more,
up hill and down, before
I get to the school gate;
I do not stop and talk
to anyone on the way,
and I am never late.
At eight o'clock today
I passed by Gunter's farm,
the men were making hay,
and then I met a herd of cows
lumbering along;
they meant no harm,
and over the fields where Gunter ploughs
each spring, a lark rose up in song;
at the end of the tall-hedged lane,
two cottages and a rick,
and there I peeled a hazel stick;
at half past nine was there,
beating a shower of rain,
ready for Miss Jones and morning prayer.
Leonard Clark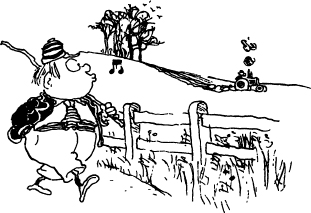 Going to School in Town
A long walk,
half a mile or more,
over four noisy roads, before
I reach the high school wall,
covered with pictures in chalk,
and hear the playground bell call
us into our lines.
I go past twenty shops, a shellfish stall,
and through a smelly tunnel where
the sun never shines,
and then across the square,
around a corner by the old King's Head
and there must wait,
do what my teacher said,
for the green light to say
that I can cross the road;
bus after bus every day
and lorries each with a different load.
And then I am
dodging the factory where they make jam,
and at last run into school there,
ready for Mr Smith and morning prayer.
Leonard Clark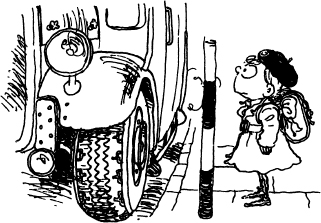 The Lollipop Lady
The Lollipop Lady is not
as tall as the lollipop
but she shines in the wet.
Some days I forget
about her, and stop
with a skid in a puddle
and there is her red and white bubble
all of a sudden, twice.
The Lollipop Lady is nice;
she sorts out the muddle
and holds my hand
and stops the cars with her magic wand
so I can walk, where there aren't any stripes,
past huge big lorries and motor bikes
which roar and shake and
smoke like dragons; but all of them wait
for the Lollipop Lady's wave –
for the children. When she
smiles and nods at me
I can cross the road. If I'm as brave
as her when I grow up, I could be
a shining Lollipop Lady.
Jane Whittle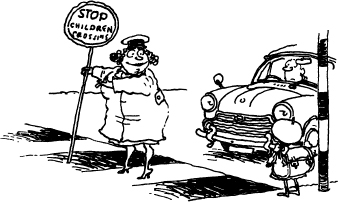 Marbles in my Pocket
Marbles in my pocket!
Winter-time's begun!
Marbles in my pocket
That rattle when I run!
Heavy in my pocket
On the way to school;
Smooth against my fingers,
Round and hard and cool;
Marbles in my pocket,
Blue and green and red,
And some are yellow-golden,
And some are brown instead.
Marbles in the playground,
Big and little ring –
Oh, I like playing marbles,
But that's a different thing.
Marbles in my pocket,
Smooth within my hand,
That's the part that's nicest;
Do you understand?
Marbles in my pocket
To rattle when I run!
For winter days are here again,
And marble-time's begun!
Lydia Pender
I've Got an Apple Ready
My hair's tightly plaited;
I've a bright blue bow;
I don't want my breakfast,
And now I must go.
My satchel's on my shoulder;
Nothing's out of place;
And I've got an apple ready,
Just in case.
So it's 'Goodbye, Mother!'
And off down the street!
Briskly at first
On pit-a-pat feet,
But slow and more slow
As I reach the tarred
Trackway that runs
By Hodson's Yard;
For it's there sometimes
Bill Craddock waits for me
To snatch off my beret
And throw it in a tree.
Bill Craddock is leaning
On Hodson's rails;
Bill with thin hands
And dirty nails;
Bill with a front tooth
Broken and bad;
His dark eyes cruel,
And somewhat sad.
Often there are workmen,
And then he doesn't dare;
But this morning I feel
He'll be there.
At the corner he will pounce …
But quickly I'll say
'Hallo, Bill, have an apple!' –
In an ordinary way.
I'll push it in his hand
And walk right on;
And when I'm round the corner
I'll run.
John Walsh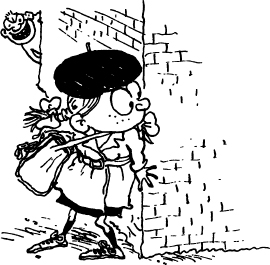 Bus to School
Rounding a corner
It comes to stay.
Quick. Grab the rail!
Now we're off on our way …
Here in the bus though
There's plenty to see:
Boys full of talk about
Last night's T.V.
Girls with their violins,
Armfuls of twigs
And flowers for the teacher.
Bartlett and Biggs
Conductor who chats with them,
Jokes about cricket;
Machine that flicks out
A white ribbon of ticket …
Conductor now waiting,
Firm as a rock,
For Billy, whose penny's
Slid down his sock,
Conductor frowning,
With finger on handle:
Poor Billy blushes,
Undoes his sandal …
'Hold very tight, please!
Any more fares?'
Whistling conductor
Goes clumping upstairs …
Boots up above, now!
Boys coming down! …
Over the hump bridge
And into the town.
John Walsh
The School Bus Breaks Down
As up the hill the school bus goes,
Just listen how it puffs and blows.
It coughs and splutters as it tries
To drag its body up the rise,
Until at last it wearies out
And stops. Then with a joyful shout
The children jump down to the ground
And laugh and skip and run around.
'We'll all be late for school! Hurray!
It's not our fault!' they chant with glee.
'Sit down. We'll soon be on our way!'
The driver roars. 'Don't crowd round me!'
He takes a crank, and twirls it round.
The boys and girls soon hear the sound
Of engines turning. In they hop.
And with another start and stop
The bus moves off. With downcast face
Each child sits in his normal place.
'School after all!' they sadly say.
'I thought we might have missed today!'
Phyllis Telfer and Hermea Goodman
The Schoolboy
I love to rise in a summer morn
When the birds sing on every tree;
The distant huntsman winds his horn,
And the sky-lark sings with me.
O! what sweet company.
But to go to school in a summer morn,
O! it drives all joy away;
Under a cruel eye outworn,
The little ones spend the day
In sighing and dismay.
Ah! then at times I drooping sit,
And spend many an anxious hour,
Nor in my book can I take delight,
Nor sit in learning's bower,
Worn thro' with the dreary shower.
How can the bird that is born for joy
Sit in a cage and sing?
How can a child, when fears annoy,
But droop his tender wing,
And forget his youthful spring?
William Blake
First Day at School
A millionbillionwillion miles from home
Waiting for the bell to go. (To go where?)
Why are they all so big, other children?
So noisy? So much at home they
must have been born in uniform.
Lived all their lives in playgrounds.
Spent the years inventing games
that don't let me in. Games
that are rough, that swallow you up.
And the railings.
All around, the railings.
Are they to keep out wolves and monsters?
Things that carry off and eat children?
Things you don't take sweets from?
Perhaps they're to stop us getting out
Running away from the lessins. Lessin.
What does a lessin look like?
Sounds small and slimy.
They keep them in glassrooms.
Whole rooms made out of glass. Imagine.
I wish I could remember my name
Mummy said it would come in useful.
Like wellies. When there's puddles.
Yellowwellies. I wish she was here.
I think my name is sewn on somewhere
Perhaps the teacher will read it for me.
Tea'cher. The one who makes the tea.
Roger McGough
School Bell
Nine-o'Clock Bell!
Nine-o'Clock Bell!
All the small children and big ones as well,
Pulling their stockings up, snatching their hats,
Cheeking and grumbling and giving back-chats,
Laughing and quarrelling, dropping their things,
These at a snail's pace and those upon wings,
Lagging behind a bit, running ahead,
Waiting at corners for lights to turn red,
Some of them scurrying,
Others not worrying,
Carelessly trudging or anxiously hurrying,
All through the streets they are coming pell-mell
At the Nine-o'Clock
Nine-o'Clock
Nine-o'Clock
Bell!
Eleanor Farjeon
The New Boy
Slowly he trundles into school clinging tightly to his mother's hand,
Crying a little.
He holds his mother's dress shyly.
Children stand like giants to him when he is just a scared mouse.
In the cloakroom the giants push around him
To reach their pegs.
He feels like a football.
Karen Aldous (aged 7)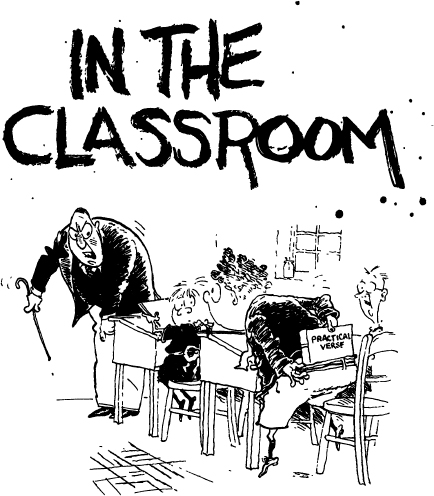 In Hall
'All things bright and beautiful …'
How many late today?
There's mud all up the front staircase,
What is she going to say?
It's hot in here, I'm going to sneeze.
'All creatures great and small …'
A spider's dangling over her!
Where is it going to fall?
It might land softly in her hair –
would she feel it, d'you suppose?
Or, if it swung a little bit,
it might settle on her nose.
'All things wise and wonderful …'
The teachers stand in line.
It's only got an inch to go!
This may be a sign.
Oh, land on her, please land on her!
'The Lord God made them all …'
Then she'll forget she saw me there –
I was here, in Hall,
I wasn't late, I didn't leave
my footsteps on the stairs …
Oh! Spider, you must hurry up,
she's halfway through the prayers.
Spider, spider, burning bright …
'Three girls I want to see.
Where are you? You, and you, and … Oh!
What's this? Oh dear! Dear me!…'
A hundred eyes, eight hairy legs,
A shadow on the wall.
I wasn't there, I wasn't late.
The Lord God loves us all!
Jane Whittle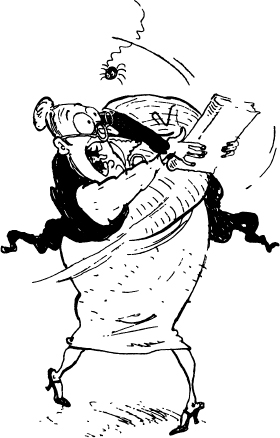 Morning Prayers
Late September, conker time,
Back at school the children file
Into the assembly hall.
Smells of freshly polished floors,
Disinfectants, sunlight soap,
Familiar sounds and smells will long
Recall those early days of school.
The day begins with morning prayers.
Headmaster strides into the hall,
Crowlike in black flapping gown,
And as the clock is striking nine,
He calls out, 'Silence please.'
And prayers begin.
The youngsters, like automatons
Repeat the words in all the same
Uncomprehending monotones,
'Ah Father wishart in Heaven,
Harold be thy name….'
E. Graham Yooll
I Went Back
I went back after a cold
And nothing was the same.
When the register was called
Even my name
Sounded queer … new …
(And I was born here too!)
Everyone knew more than me,
Even Kenneth Hannaky
Who's worst usually.
They'd made a play
And puppets from clay
While I was away,
Learnt a song about Cape Horn,
Five guinea pigs were born.
Daffodils in the blue pot,
(I planted them)
Bloomed, and I was not
There to see.
Jean had a new coat
And someone, probably George,
Smashed my paper boat.
Monday was a dreadful day.
I wished I was still away.
Tuesday's news day.
I took my stamps to show,
Made a clown called Jo,
Learnt that song from John …
Cold's almost gone …
And … the smallest guinea pig,
Silky black and brown thing,
I'm having
Till spring.
Gwen Dunn
From the Classroom Window
Sometimes, when heads are deep in books,
And nothing stirs,
The sunlight touches that far hill,
And its three dark firs;
Then on those trees I fix my eyes –
And teacher hers.
Together awhile we contemplate
The air-blue sky
And those dark tree-tops; till, with a tiny
Start and sigh,
She turns again to the printed page –
And so do I.
But our two thoughts have met out there
Where no school is –
Where, among call of birds and faint
Shimmer of bees,
They rise in sunlight, resinous, warm –
Those dark fir-trees.
John Walsh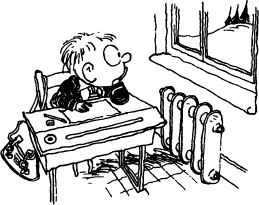 From the classroom window.
From the classroom window.
I can see trees looking like bands of
black lace.
The fringe of grass protecting the
frightened fence like tall thin body
guards.
The small sparrows black birds and
magpies looking like little midget
witches swooping down on their broom
sticks to get some food.
Neil Bartlett (aged 8)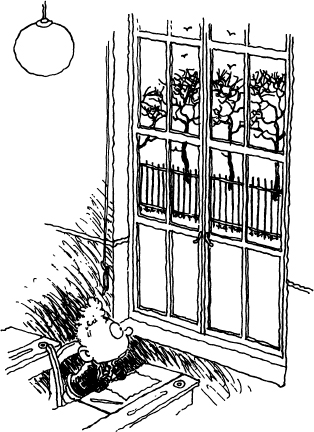 Timothy Winters
Timothy Winters comes to school
With eyes as wide as a football—pool,
Ears like bombs and teeth like splinters:
A blitz of a boy is Timothy Winters.
His belly is white, his neck is dark,
And his hair is an exclamation-mark.
His clothes are enough to scare a crow